5 Things You Didn't Know About Greek Yogurt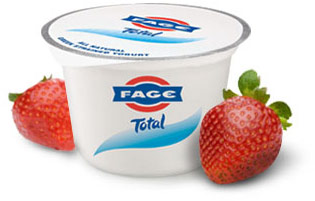 The two mid-sized food brands I've been the most excited about over the last couple of years are Sabra, the hummus company, and Fage, which makes Greek yogurt. But in Greek yogurt, it turns out the biggest winner has actually been Chobani, which has come out of nowhere to become the market leader in just a few years.
I learned that tonight in an amazing "deep dive" report into the Greek yogurt industry by UBS analyst David Palmer. Here's what else I learned:
1) Greek yogurt has been hugely disruptive to the yogurt industry. Non-Greek yogurt represented 98% of yogurt sales in 2008; Greek yogurt now represents 19% of the yogurt market. Palmer writes, "Greek yogurt brands such as Chobani and Fage have captured market share more quickly than almost any segment in a major food category ever." He adds, "To put this in perspective, this is more than energy drinks have captured of carbonated soft drinks in the last 6 years."
2) Chobani and Fage are kicking Yoplait and Dannon's butts, quickly growing to 13% of the overall yogurt market — and representing 70% of the market's growth. Chobani, from upstate New York, has been particularly impressive, taking 48% of the Greek yogurt market in just 3 years. Why is Chobani doing so well? It seems to be priced about $1 cheaper per 16 oz., according to a chart in the report. And, my guess: The branding seems to be fresher, and the product seems to be targeted more toward the American palate. Fage feels more European, which might be why I buy it.
3) Why are people buying Greek yogurt? It's more filling, and is perceived as being healthier. It has twice as much protein. And while people aren't crazy about its taste, high-end buyers are happy to spend almost twice as much money for it. I actually prefer it, but I've mostly eaten plain, unsweetened yogurt.
4) Greek yogurt seems to be getting its growth from "increasing popularity among upper-income, highly educated women." According to NPD Group, via the UBS report, it over-indexes with people who don't have kids, especially among college grads, and households with over $100,000 in income.
5) Yogurt has been getting more popular at breakfast, especially among men and children. Cereal consumption at breakfast has fallen to a 5-year low. This chart does a good job showing the category's growth in general, and especially Chobani's: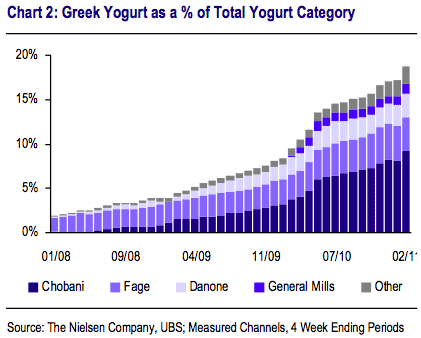 Previously: Inside Frijoles, Tokyo's Tribute To Chipotle

Check out my new site: The New Consumer, a publication about how and why people spend their time and money.