How Wesley Willis Got Me on the Cover of the Evanston Phone Book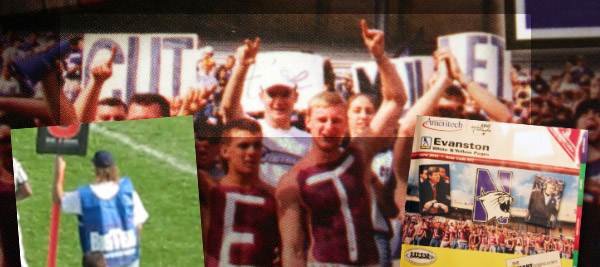 In 2000-01, my freshman year of college, the Northwestern Wildcats won the Big Ten title. So it made sense that Ameritech, the local phone company, would feature them on the cover of the Evanston phone book the next year. (Which I found this past week while visiting Chicago for Christmas.)
Their photo's focus: A bunch of shirtless frat dudes in the front row of the Ryan Field student section with their chests painted "Who Let The Cats Out" — a parody of the terrible Baha Men song that was already getting old.
Directly behind them: Some friends and me holding up homemade signs that said "Cut the Mullet" — a reference to a song by Wesley Willis, a paranoid schizophrenic musician from Chicago. The signs were created for — and directed specifically at — the Big Ten official holding the first down marker. As you can see, he really needed to get his mullet cut.
Wesley recorded more than 50 albums before he died in 2003. (I started listening to him in 8th grade after hearing him on a morning radio talk show.) Most of his songs sounded exactly the same: Brilliant nonsense yelled into a mic over an electric keyboard's prerecorded sample tracks. Here's "Cut the Mullet," live.

Check out my new site: The New Consumer, a publication about how and why people spend their time and money.